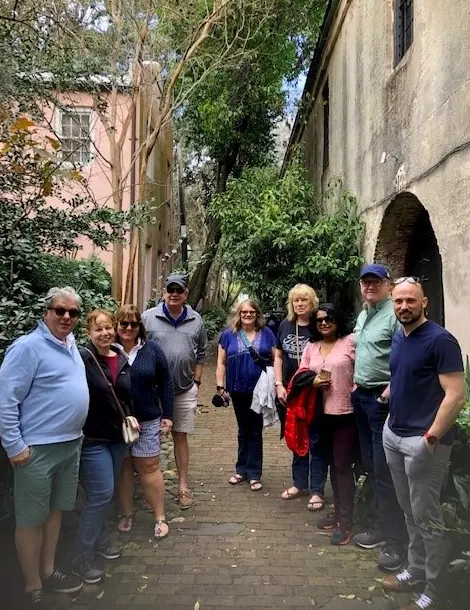 2 hour Tour
The one of a kind perspective from cruising the water of Charleston Harbor provides insight into how this historic city developed since its founding in 1670.
The vessel used is a 22 foot bay boat going over the same seabed that saw a pirate blockade by the dreaded Blackbeard, one of the first major Revolutionary War Victories at the Battle of Fort Moultrie, and a Civil War naval blockade and battle that would inspire movies like 'Glory'. Captain Bryan will provide history about 5 historic sites (Fort Moultrie, Fort Sumter, The Battery (Oyster Point), Castle Pinckney and the site of Fort Johnson.
Along these tours you will also have the opportunity to see a multitude of native wildlife including the friendly bottlenose dolphin and diving pelicans.
Adult - $40.00 + tax
Ages 21 + (no exceptions)
Days and Times
**Wednesday thru Sunday 4pm start
About
This walking tour takes guests to three/four handpicked bars and restaurants on and near Historic Shem Creek. Sample light, tasty appetizers provided complimentary as part of the tour and have the opportunity to purchase some fine Southern cocktails and brews all while learning the local history of the area from a licensed guide.
Booking Notes
Thanks for booking with Charleston Historic Tours LLC! Please reach out for any questions, comments, or concerns.
As a reminder here are the starting location for the various tours:
Shem Creek Bar Tour: 202 Coleman boulevard
Shem Creek Historic Walking Tour: 111 Coleman boulevard
History and Hops tour: 70 state street
Boo-hag and Brews tour: 160 church street
Historic Harbor Tour: Shrimp Boat Lane (host will call with specific meeting instructions)
Health and Safety Policy
Guests will be pleased to know Charleston Historic Tours LLC has customer safety and health in mind with all tour experiences.
Guide will maintain recommended distance between groups
Tour size is now limited to under 10 guests
N95 masks and hand sanitizer are provide complimentary as needed by guests
Guests are asked to wear masks while walking per city ordinance and for the health and safety of the guide and other guests.
Thanks for your understanding during this time and please reach out with any questions/comments/ concerns and I will be glad to assist.
Sincerely,
Bryan Blalock
Owner of Charleston Historic Tours LLC