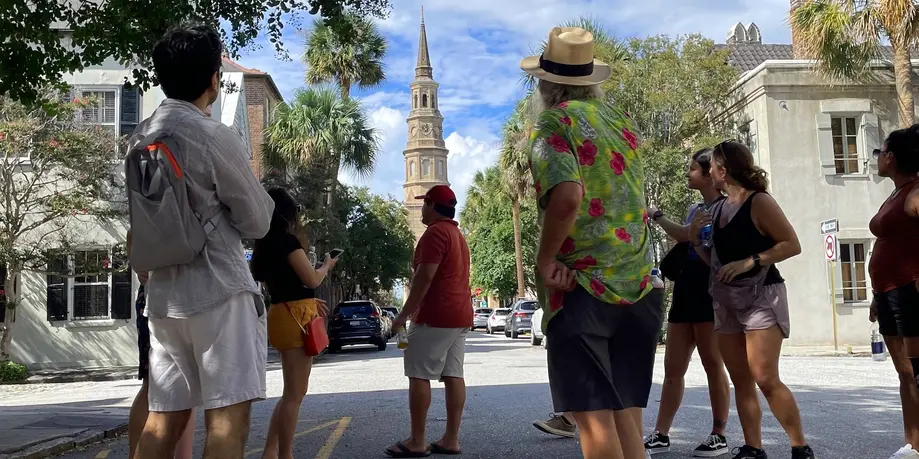 2 Hours • All Ages
Holy City History Tours has been dedicated since our founding to telling the stories of the women and men who were written out of the history books.
We bring the stories of these forgotten figures to life with informative entertainment. Each tour showcases Charlestonians who endured enormous hardships, overcame nearly impossible circumstances, and helped propel society into the future. Sometimes you laugh, sometimes you cry, and sometimes you feel awe-inspired.
With each tour, we aim to give each guest a real and authentic experience of Charleston and its history.
Person - $35.00 + tax

Private Group - $280.00 + tax

Perfect for first-time visitors to Charleston!
About
The Charleston Walking & Storytelling Tour is an exploration of Charleston that highlights the women and men who helped found Charleston and the United States.
Did you know, without the pirates and patriots of Charleston, the United States may not exist today?
We start our experience in front of the Old Exchange and Provost Dungeon, one of Charleston's oldest and most historical buildings. Learn about George Washington's visit in 1791, and the dungeon's prisoners who met their fate.
Next, we venture down East Bay Street, passing Rainbow Row. Behold gorgeous mansions, and witness breathtaking views of the Charleston Harbor and White Point Garden. Walk in the footsteps of pirates and their captors.
Next, we turn inward and walk through Charleston's South of Broad neighborhood. Learn about the man George Washington and Thomas Jefferson said was the true father of America. Stand on the same grounds where many pirates and robber barons met their fate. Learn the true stories of how pirates looted and plundered to make their way.
Last, we venture back to our starting point, passing by the Four Corners of the Law and the shops and residences on Broad Street.
Join us for an exploration, an awakening, and an empowerment trip through time in Charleston's oldest neighborhood.
Duration
2 Hours
Included
Admission to the Halsey Gallery of Contemporary Art at 161 Calhoun Street.
Admission to the Philip Simmons House at 30-1/2 Blake Street.
What to Bring
Suitable shoes for walking
Water bottle
Umbrellas/jackets on rainy days
Additional Information
We begin and end the tour at the Old Exchange and Provost Dungeon.
Parking is available at a metered lot at 10 Gillon Street or the Prioleau Parking Garage at 25 Prioleau Street.