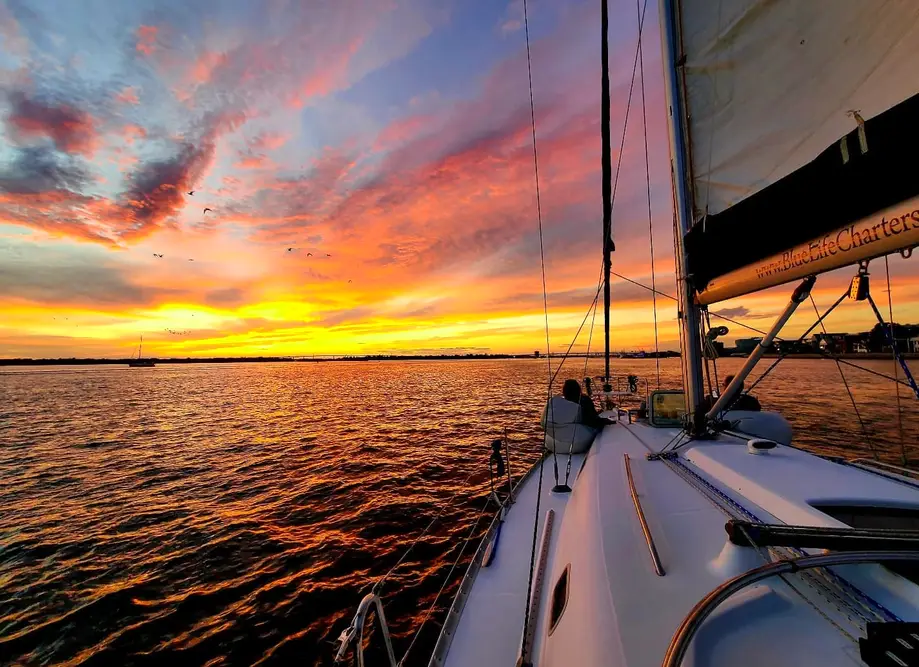 2.5 hours • All ages welcome • Up to six passengers
Private charter (copy) - $535.00 + tax
Up to 6 people • All ages welcome
Private Charter on Boondoggle - $535.00 + tax
Up to 6 people • All ages welcome
The best view of the sunset!
Duration
2.5 Hours 
About
A scenic sunset on the Charleston Harbor is the perfect way to cap the night off. Choose between 2 separate monohull sailboats. A beautiful 36ft Beneteau (the Llibertat) or a gorgeous 32ft Catalina (the Boondoggle). Water and sodas are included.
Booking Notes
Thank you very much for choosing Blue Life Charters. We are looking forward to seeing you and sailing with you. As you prepare for your charter tour we do ask you do keep a few things in mind.
At the Ashley Marina there is no guest parking therefore the best solution is to Uber or grab a taxi in order to get to the marina location.
Please arrive 10 minutes prior to our scheduled departure time. This time will allow for a mandatory safety/boat briefing that will not cut into our sailing time.
The crew works almost solely off tips which are not included in your price. Please dont forget about them at the end of your charter.
We offer bottled water, sodas, glassware, and all necessary appliances onboard and we keep an extra refrigerator available for you to keep cold any other beverages and snacks you want to bring with you. We also offer gourmet catering upon request and if desired we ask you to call or email and we are happy to set this up for you.
During the summer months we will request you remove your shoes before coming aboard, unless it is not possible for your health. During the colder months of the year we request you wear your boating shoes or non-scuffing white-soled shoes.
During the daytime we do remind you that you may want to bring sunscreen lotion (non aerosol based) to stay protected.
Being on boats goes hand in hand with certain risks. We at Blue Life Charters LLC assume no liability for injuries or loss of any kind. Please have a look at our terms and conditions page on our website for any additional information.
https://www.bluelifecharters.com/terms-and-conditions
If you have any further questions or concerns before your charter feel free to email or call us. Until then take care and we will see you soon!
Thanks again,
Blue Life Charters
Health and Safety Policy
Your health is our top priority, and we have put special measures in place to keep all guests safe both during and after your activity.
Stringent Cleaning - We have increased the frequency of disinfecting the boat and high traffic areas diligently before and after each charter tour, and bu and sanitize will be available to all guests onboard.

Masks - Masks are worn on a voluntary basis while onboard. Since we are an outdoor activity, if you feel comfortable taking yours off we do allow it. If you as the guests prefer our captain and crew to wear masks for your comfort while you are onboard they will upon request.

Wellness Checks - Employees recieve wellness checks daily to ensure they are healthy and symptom free. If you or anyone in your group is feeling symptoms we will work directly with you to reschedule your current charter.
Our top priority during these difficult times of COVID-19 are a balance between safety and comfort. We strive to go above and beyond to make sure our guests are well taken care of. Thanks so much and stay safe!