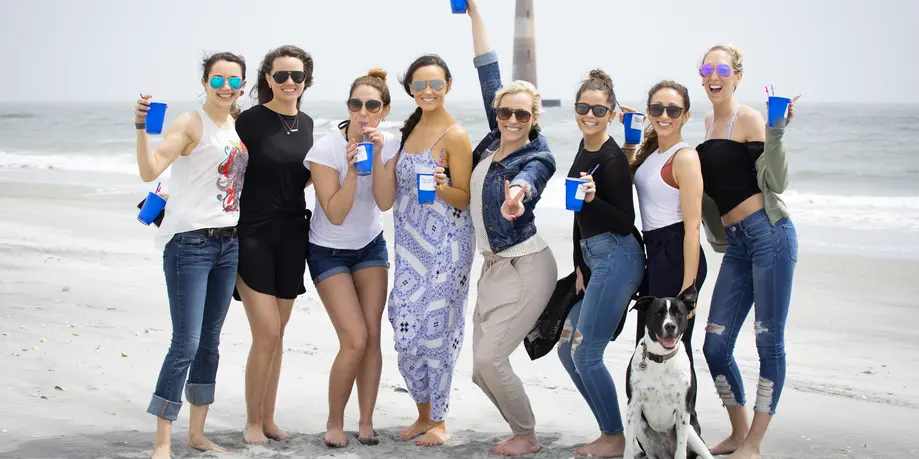 3 Hours
Flipper Finders Boat and Sea Kayak Tour Co. is a full-service adventure outfitter for guided inshore charters near Charleston, South Carolina. You'll find us at the edge of the beautiful Folly River- a short walk from Folly Beach. Most tours encounter a variety of wildlife including bottlenose dolphin, shore birds, sharks, turtles, crabs, and starfish. Let one of our knowledgeable guides show you and your group this amazing ecosystem.
Private Charter - $900.00 + tax
Up to 12 people • 3 Hours
Additional Person - $50.00 + tax

We specialize in Bachelorette and Bachelor parties!
About
Jump aboard our 18 passenger BeachCat Saltwater Pontoon Boat and let's get the party started! Cruise the waterways of the Folly River, just south of Charleston, where we will find a beach to land the boat, so we can swim, explore or just hang out!
The first hour is typically spent exploring the marsh, getting used to the boat, and looking for dolphins. Hour two is the perfect time to park on a beach, swim, relax, and use the giant Lily Pad float! Hour three is usually a slow cruise, dance party on the boat as we head back to Folly Beach.
It's BYOB and the boat does have a stereo!
Our Captains love to represent the bride, so if you are making matching shirts, hats, koozies, etc make sure to bring one for the Captain so he/she doesn't feel left out!
Tour is 3 hours starting after 12pm so you can sleep in. However, if there is another time you would like to go out, please give us a call and we can try to accommodate you!
Cancellation Policy:
Up to two weeks notice, full refund. Within two weeks 50%. Day of cancellation is full price (no refund).
Booking Notes
DROP OFF/5 Min. PARKING: There is NO long term parking in front of the shop located at 83 Center Street. When driving onto Folly our building will be on the right-hand side of the road just past the Public Boat Ramp. Please be prepared to drop off and pick up your guest in front of the building within the gravel lot *** before the Folly's Best Rentals Ford Bronco, however, do not park in front of the Folly's Best Rentals. If at all possible walk, ride a bike, or rideshare.
2 HR PARKING: If you must park a car for the duration of your activity, please park at the public boat landing. When coming onto Folly Beach, the entrance to the public boat landing will be your immediate right-hand turn after the final folly river bridge. If available, it's best to park in the spaces immediately to your left after turning into the boat ramp. Please do not park in the trailer spaces (the long ones) at the public boat launch as they give tickets to non trailered vehicles.
Sometimes the landing is full, so parking is free on Folly, but there are some rules you must know. All four tires must be off the street and going with the flow of traffic. You can park anywhere, unless there is a sign specifically stating that you cannot.