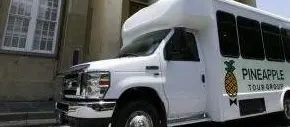 From 1 ½ to 6 Hours • Pineapple Tour Group can accommodate your group for every occasion
OUR PROMISE TO YOU
IN CHARLESTON, HOSPITALITY IS OUR CUSTOM AND HISTORY IS OUR CULTURE
1 ½ Hour - Private Tour - $375.00 + tax

3 Hour - Private Tour - $500.00 + tax

4 ½ Hour - Private Tour - $750.00 + tax

6 Hour - Private Tour - $900.00 + tax

Book Exclusive Charleston Tours with the Best Guides!
Duration
Select between:
1 ½ Hours
3 Hours
4 ½ Hours
6 Hours
About
Whether you've visited Charleston many times or if this is your 1st trip to the Holy City, a private tour is the best way for you and your group to experience a one to one experience with our talented historians.
We want to tailor your tour to fit your interests - Pineapple Tour Group can accommodate your group for every occasion.
Booking Notes
Check-in
Please arrive 10 minutes prior to your tour start time.
For any questions or concerns, call 1877.553.1670
Thank you for booking, and we look forward to your visit!
Check out our Newest Video about what's going on in the Low Country
[Low country boil episode one]
View watch
(https://youtu.be/C1CLeHMcUr4)