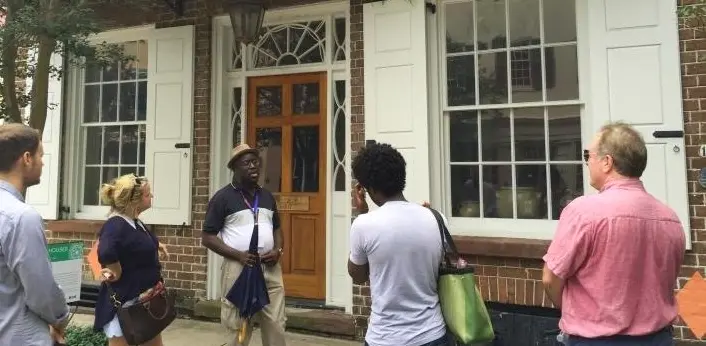 2 Hours • Professor Damon Fordham's Black History Walking Tour • All ages!
We have been in business for 20 years for a reason: we consistently deliver a quality Charleston tour experience better than anyone else.
Julian T. Buxton III founded Tour Charleston LLC on September 5, 1996, at first simply calling the company The Ghosts of Charleston. He grew up in Charleston and graduated from Princeton University with a B.A. in American History.
Besides putting Charleston's supernatural activity on the world map, he has served his home city in many ways: as the City of Charleston Tourism Commission Chair (where he worked effectively to balance the quality of life for residents and the needs of the tourism industry), Vice-Chair of the Charleston Area Convention and Visitors Bureau Board of Governors, Hospitality Industry Vice-President for the Charleston Metro Chamber of Commerce Board of Directors, and in other capacities.
Julian is now focused primarily on the creative work he loves: developing quality tour experiences for Charlestonians and for visitors to the city, and writing new books (including a sequel to his nationally popular book The Ghosts of Charleston).
Tour Charleston's licensed guides are experts in the city's rich history and supernatural lore. They tell up to date accounts of the stories in The Ghosts of Charleston which remains the primary source book for all recounting of Charleston's supernatural history.
Adult - $34.00 + tax
Ages 13+
Student - $25.00 + tax
All ages. Must bring Student ID
Youth - $22.00 + tax
12 years and younger
Senior - $30.00 + tax
65 years and above
Military, First Responders (Police, EMT, Firefighters) - $30.00 + tax
Must provide ID
AAA - $30.00 + tax
Must provide membership card
Professor Damon Fordham's 5-Star walking tour weaves together his talents as an historian, educator, published author, and story-teller.
Ages 6 & under are free
Duration
2 Hours
About
"Lost Stories of Black Charleston" is powered by Professor Fordham's strong storytelling and solid history that he has compiled during a life dedicated to discovering and researching the "lost stories" of Charleston's rich and complex history.
The 2 hour stroll departs from and ends at Buxton Books, Charleston's Independent Bookstore located next to The Charleston Library Society at 160 King Street. (5 doors north of the corner of Queen and King Streets).
The total approximate walking distance is 1.25 miles.