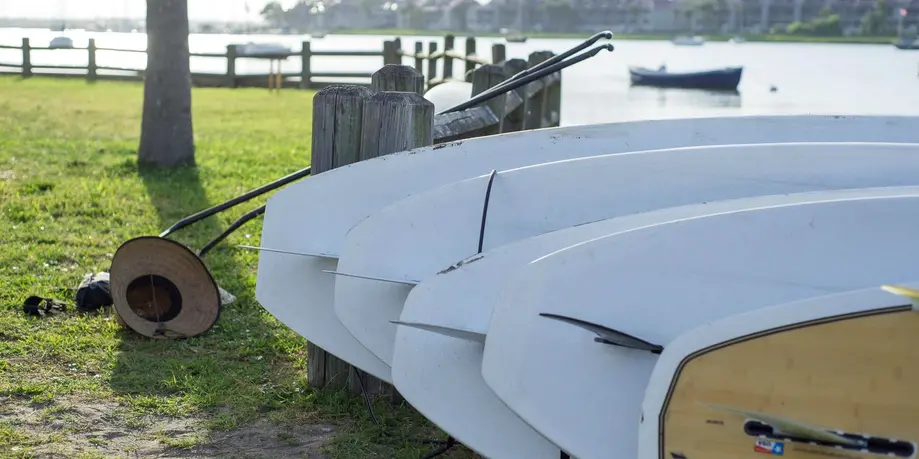 2 Hours • All Ages
Charleston SUP Safaris has been voted the Best Stand-Up Paddle company in Charleston for three years running, and has been internationally recognized as a leader in the industry. We are Charleston's original paddleboard company, leading over 3,000 paddlers through Folly Beach's waterways over the past 7 years.
Learn how to paddleboard with the experts on the beautiful Folly River and let us guide you through the salt marsh ecosystem searching for local wildlife. We offer stand-up paddleboard eco-tours, river and surf lessons, rentals, SUP yoga, fitness, paddleboard sales, and summer camps.
Charleston SUP Safaris specializes in large groups, family outings, bachelor or bachelorette parties, corporate team building events, and special occasions. Stop by our shop, conveniently located at 83 Center St. and our professionally certified guides will get you outfitted with Boardworks paddleboards and carbon fiber paddles.
Our passion and sole focus is paddleboarding. Before your trip, our Lifeguard certified guides conduct proper ground school instruction and in-water paddle training, ensuring safe, fun, and exciting trips. Whether you're looking for an invigorating flat water paddle through our estuaries or are interested in catching ocean waves, we love the water and want to share "The Stoke" with our customers.ᅠ Come check us out!ᅠ Everybody's learning how with the paddleboard experts- Charleston SUP Safaris.
Adults 13+ - $50.00 + tax
Ages 13 and older
Children 1-12 - $50.00 + tax
Ages 12 or under
Full Day Rental
Duration
2 hours
About
Rent your own private SUP for eight hours!
Have you ever paddle boarded before? If not, we highly recommend you book a tour with one of our lifeguard certified guides to show you the waters and give you a brief ground school lesson before you head out!
Rentals start at 10:00 AM every day
Mornings are when the winds and water are the most calm
What to Bring
water bottle, sunblock, swim suit
Booking Notes
PARKING:
Drop Off/ 5 min Parking: We do have two designated drop-off and pick-up spots located directly in front of our shop. They can be used for 5 minutes at a time or less, so please be prepared to drop off your group before finding long term parking. When driving onto Folly our building will be on the right-hand side of the road just past the Public Boat Ramp. Please be prepared to drop off and pick up your guest in front of the building within the gravel lot after the Charleston SUP Safaris sign directly in front of our building, however, do not park in front of Folly's Best Rentals building.

Boat Ramp Location/2 HR PARKING:
When coming onto Folly Beach, the entrance to the Public Boat landing will be your immediate right-hand turn after the final Folly River bridge. If available, the best spaces to park in are immediately to your left after turning into the boat ramp. Please do not park in the trailer spaces (the long ones) at the public boat launch as they give tickets to non trailered vehicles, see pic of sign post. If the landing is full, parking is free on Folly, but there are some Rules you must know. All four tires must be off the street and going with the flow of traffic. You can park anywhere, unless there is a sign specifically stating that you cannot.
When coming on a weekend or major holiday, parking will most certainly be limited. If at all possible walk, ride a bike, or Rideshare.