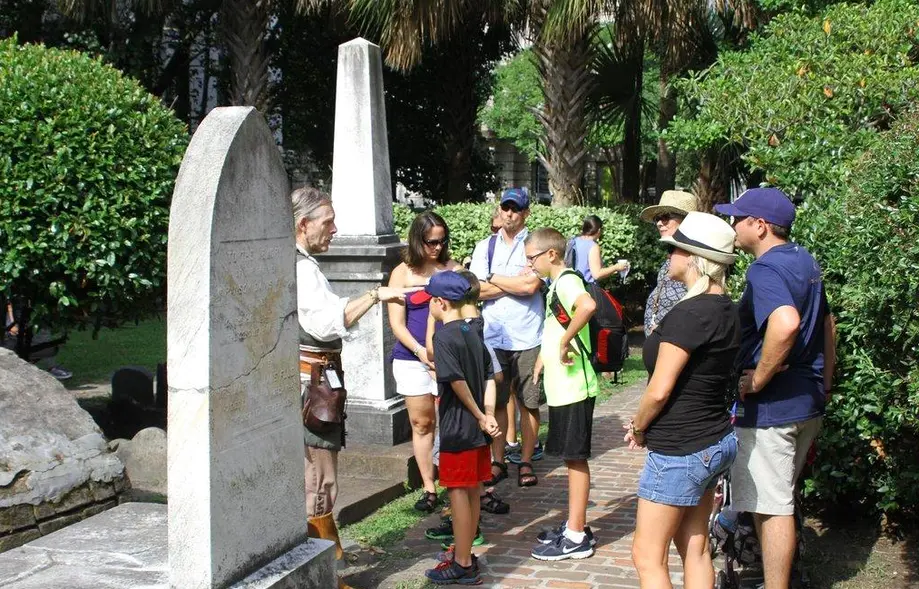 Sites evening tours can't visit! • 2 Hours • Ages 4+
Explore Charleston Pirate and Colonial history with award-winning guides.
Evening & daytime Ghost and History tours also offered. Seen on Travel Channel, A&E, Syfy, PBS, NPR.
We also offer Charleston's only children's tour, and it's a treasure hunt!
Featured on NBC Today Show. Also, appearances on Travel Channel, Syfy, A&E, Lifetime, ETV, PBS, and National Public Radio.
Adult - $25.00 + tax
Ages 13+
Child - $15.00 + tax
4 - 12
Child under 3 - $0.00 + tax

Some of Charleston's most fascinating ghost stories are in areas that organized tours cannot go at night, so we offer you the chance to see these spooky sites during a daytime tour.
Duration
2 Hours
About
Duels, unrequited love, wars, and natural disasters have left us with more than our fair share of specters! Many of them roam the quiet streets in the city's most picturesque neighborhoods, and that's exactly where this tour goes. Along the way, we'll also share some interesting Charleston history tidbits.
FAQ
Do I have to purchase tickets in advance? Space is limited, and tours often sell out. To get the tour time that you want, we suggest advance purchase.
Is the tour appropriate for children? Yes, the tour is family-friendly and appropriate for all ages.
Do you cancel for bad weather? Tours run rain or shine. Should hazardous weather force the cancellation of a tour, you may reschedule your tour (based on availability). If you cannot reschedule, we will refund your purchase.
How far do we walk? The Charleston Pirate Tour covers about 1 1/4 mile over 2 hours. The Children's Treasure Hunt Tour covers less than 1/2 mile over one hou. The Ghost and Pirate Tour covers about 3/4 of a mile over 90 minutes. The Daytime Ghost Tour covers about 1 1/4 mile over 2 hours.
Bathrooms? As the tour route takes us through several residential areas, public restrooms are few and far between, and there are no scheduled restroom stops.
Is there access for the handicapped? Charleston's 300-year-old sidewalks can be a bit daunting if you have mobility issues. However, we do our best to accommodate all including guests with wheelchairs and motorized scooters. If your group does not want a walking tour, we can arrange a a motorized tour or storytelling presentation for you.
Are cameras/video recorders allowed? Yes. In fact, the parrots love posing for pictures.
Should we tip the tour guide? Tipping is always appreciated.
Can you take large groups? Yes, we can accommodate large groups. However, the City of Charleston regulates the tour industry and limits the number of walking tour guests to 20. If you have a group with more than 20 people, we will have to split up the group and use multiple tour guides. All of our guides are highly experienced and very entertaining, and all dress in period apparel. Just contact us for booking information.
Do you do private tours? Yes, we are happy to customize private tours. Please contact us for information on scheduling your private tour. Call 843-442-7299 or email info@CharlestonPirateTour.com.
Do you offer gift certificates? Yes, and a Charleston Pirate Tour gift certificate makes a terrific gift!
Can I hold/pet the parrots? For your safety and that of Captain Bob and Doozer, we do not allow guests to handle them.
About Charleston Pirate Tours
Cancellation Policy
Tours run rain or shine. Should hazardous weather force the cancellation of a tour, you may reschedule your tour (based on availability). If you cannot reschedule, we will refund your purchase.
Tickets are non-refundable, but you may reschedule (based on availability) with 24-hours-notice.
The health & well-being of Captain Bob and Doozer are priorities for us, so please understand that we cannot guarantee their appearance on every tour. They do not accompany the tour in extreme temperatures.
The tour route is in public areas over which we have no control. Charleston Pirate Tours is not responsible and cannot be held liable for behavior of the public, other tour patrons, or any accidents during the tour.
Health and Safety Policy
Stringent Cleaning - We've increased the frequency of disinfecting surfaces and high traffic areas between each tour, and hand sanitizer will be available to all of our guests.
Social Distancing - Guests will stay at a safe 6-foot distance during all points of the tour.
Wellness Checks - Employees receive daily wellness checks to ensure they are healthy and symptom-free. If you or anyone in your group is experiencing symptoms, please call us, and we will work directly with you to cancel or reschedule your tour.
Charleston no longer has a mask ordinance, so you do not have to wear a mask during the tour.
Please click below for complete policy.