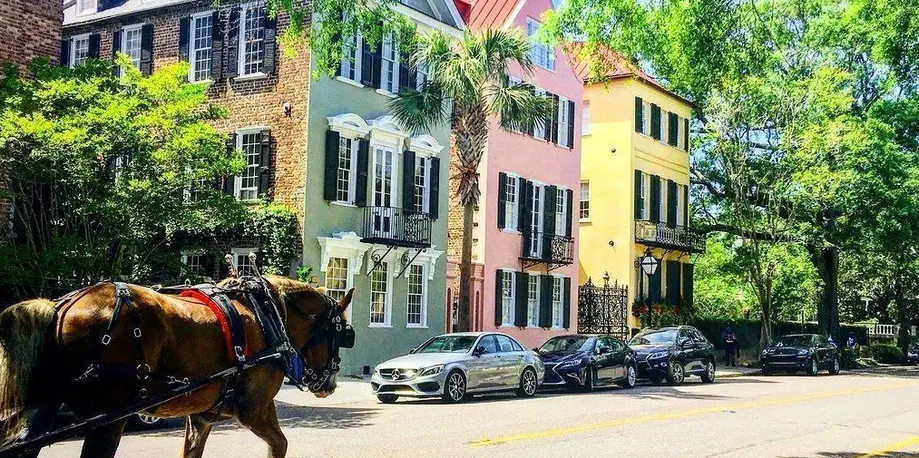 Up to 16 People • Departing every 30 min and lasting 60 min • Our most popular tour! • Ages 4+
Carolina Polo and Carriage Company is the only carriage company in Charleston owned and operated by Charlestonians whose families have been here since the 1600's.
Don't just take a buggy ride, come see the real thing as we show you sights that will leave you breathless and tours that will leave you speechless.
Private carriages are available for tours, weddings and other festive occasions.
Give us sixty minutes and we'll give you Charleston as you've never experienced it before.
Adult - $45.00 + tax
Ages 12+
Child - $35.00 + tax
Ages 4-11
Young Child - $0.00 + tax
Ages 3 and under are free!
Give us sixty minutes and we'll give you Charleston as you've never experienced it before
Description
Experience Charleston's Downtown Historic District by carriage. Take a relaxing 1 hour fully narrated group tour through the quaint and charming streets of downtown Charleston. Let our passionate and engaging guides bring to life the history and architecture of Charleston for you. You will see beautiful gardens and parks, stately mansions, historic churches and buildings all the while learning about the people and events that shaped the history of this "Holy City."
Tour Details
Duration: 1 hour
Capacity: Up to 16 people
What to Expect
Tours depart from the Historic City Market approximately every 30 minutes between the following hours:
9:30am-5pm, daily during daylight savings time (March – Nov)
9:30am-4pm, daily (Nov – Feb)
Please check in at the ticket office at 45 Pinckney St on your selected day prior to your preferred time of departure and you will be assigned to the next available tour. Please note that during peak season and on weekends, wait times may vary.
Once guests are loaded onto the carriage and cleared for departure, it is a requirement by the City of Charleston Tourism Officials that they check in at the gate prior to departure. For tax reasons and traffic flow, the city is in charge of randomly doling out one of four routes that each carriage will receive through the historic district of Charleston. This is determined by a spin of a bingo ball machine. The color that comes up determines the route or "zone" that particular carriage is allowed to tour.
Itinerary Description
All of the public tours begin in the Historic City Market.
There are several tour routes possible, and highlights of your tour could include notable sites such as the Old Exchange building, one of the most historic buildings in America. Finished in 1771, this was the last building constructed by the British before the Revolutionary War.
The Edmondston Allston House is also seen on this route, as well as the historic White Point Gardens, better known as "The Battery."
Your guide will also share with you the significance of several points of interest if you pass along Meeting Street, including the Calhoun Mansion, the Historic House Museum (The Nathaniel Russel House) and First Scott's Presbyterian Church.
These highlights are just a fraction of all the incredible historic sights you might see on one of our tours around Charleston, depending on which route your tour takes. All tours finish in the Historic City Market where you are free to enjoy your next Charleston adventure.
Booking Notes
Please note that during non-daylight savings time, the last carriage will depart at 4:00pm daily. You must arrive at least 30 minutes prior to the last carriage of the day or your spot is not guaranteed.