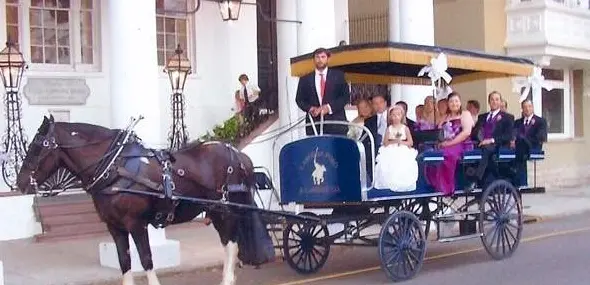 Up to 16 people • 1 Hour • All Ages Welcome!
Carolina Polo and Carriage Company is the only carriage company in Charleston owned and operated by Charlestonians whose families have been here since the 1600's.
Don't just take a buggy ride, come see the real thing as we show you sights that will leave you breathless and tours that will leave you speechless.
Private carriages are available for tours, weddings and other festive occasions.
Give us sixty minutes and we'll give you Charleston as you've never experienced it before.
Experience Charleston's beauty and charm while touring in style and elegance in one of our large group private carriages
Description
Take a private tour with your family, friends or business associates. Carolina Polo and Carriage Company has the capacity and training to specialize in groups of all sizes. We offer a wide variety of services to accommodate all types of groups, reunions, and corporate functions. We look forward to providing you with the best carriage tour in Charleston.
Tour Details
Duration: 1 hour
Capacity: Up to 16 people
All Ages Welcome
Pricing is per carriage and includes a one hour fully narrated horse drawn carriage tour of the historic district. If you have a special request, please do not hesitate to contact us.
Once guests are loaded onto the carriage and cleared for departure, it is a requirement by the City of Charleston Tourism Officials that they check in at the gate prior to departure. For tax reasons and traffic flow, the city is in charge of randomly doling out one of four routes that each carriage will receive through the historic district of Charleston. This is determined by a spin of a bingo ball machine. The color that comes up determines the route or "zone" that particular carriage is allowed to tour.
Please check in with an attendant at the Carolina Polo & Carriage ticket office at 45 Pinckney Street 10 minutes prior to your tour start time.
Itinerary Description
Your tour will begin near the 200-year-old Historic City Market which spans 4 blocks and is one of the oldest public markets in the United States.
Highlights of your tour, depending on the zone you are given, could include the French Quarter. Your tour guide will bring the French Quarter to life with narratives of the Dock Street Theatre, the French Huguenot Church and St. Philips Church. You can see the Miles Brewton House on King Street, known for its Georgian Architecture, the Swordgate House, and St. Michael's Episcopal Church, which is the oldest church structure in the city.
If your guide navigates the streets nearest the Battery you might catch a glimpse of Fort Sumter and hear the fascinating history behind the attack on the fort and the beginnings of the "Late Great Unpleasantness."
These are just a few of the sights possible on our variety of detailed routes around beautiful Charleston. All tours finish in the Historic City Market where you are free to enjoy your next Charleston adventure.
Booking Notes
Please note that during non-daylight savings time, the last carriage will depart at 4:00pm daily. You must arrive at least 30 minutes prior to the last carriage of the day or your spot is not guaranteed.
Health and Safety Policy
Wellness Checks - Tour guides report daily that they are healthy and symptom-free. If you or anyone in your group is experiencing symptoms, we will work directly with you to cancel or reschedule your tour.