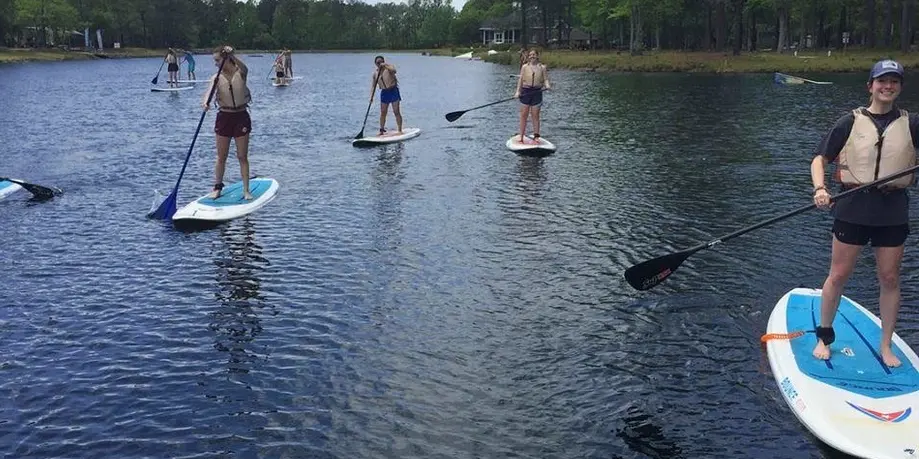 2 Hours • All Ages • Group, Semi-Private, & Private Lessons Available
Charleston SUP Safaris has been voted the Best Stand-Up Paddle company in Charleston for three years running, and has been internationally recognized as a leader in the industry. We are Charleston's original paddleboard company, leading over 3,000 paddlers through Folly Beach's waterways over the past 7 years.
Learn how to paddleboard with the experts on the beautiful Folly River and let us guide you through the salt marsh ecosystem searching for local wildlife. We offer stand-up paddleboard eco-tours, river and surf lessons, rentals, SUP yoga, fitness, paddleboard sales, and summer camps.
Charleston SUP Safaris specializes in large groups, family outings, bachelor or bachelorette parties, corporate team building events, and special occasions. Stop by our shop, conveniently located at 83 Center St. and our professionally certified guides will get you outfitted with Boardworks paddleboards and carbon fiber paddles.
Our passion and sole focus is paddleboarding. Before your trip, our Lifeguard certified guides conduct proper ground school instruction and in-water paddle training, ensuring safe, fun, and exciting trips. Whether you're looking for an invigorating flat water paddle through our estuaries or are interested in catching ocean waves, we love the water and want to share "The Stoke" with our customers.ᅠ Come check us out!ᅠ Everybody's learning how with the paddleboard experts- Charleston SUP Safaris.
Private - $80.00 + tax
(1:1 Student to Instructor)
Semi Private - $70.00 + tax
(2:1 Student to Instructor)
Group - $60.00 + tax
(3:1 ratio)
Group - $50.00 + tax
(4:1 ratio)
Flatwater River Lesson
Duration
2 Hours
About
Not quite ready for the waves? No worries. We offer flatwater river lessons for any skill level. The lesson includes proper ground school instruction and in-water paddle training.
Beginners - Learn how to do it right the first time and then continue to build your skills and confidence.
Advanced - Focus on specific skills and techniques to move to the next level.