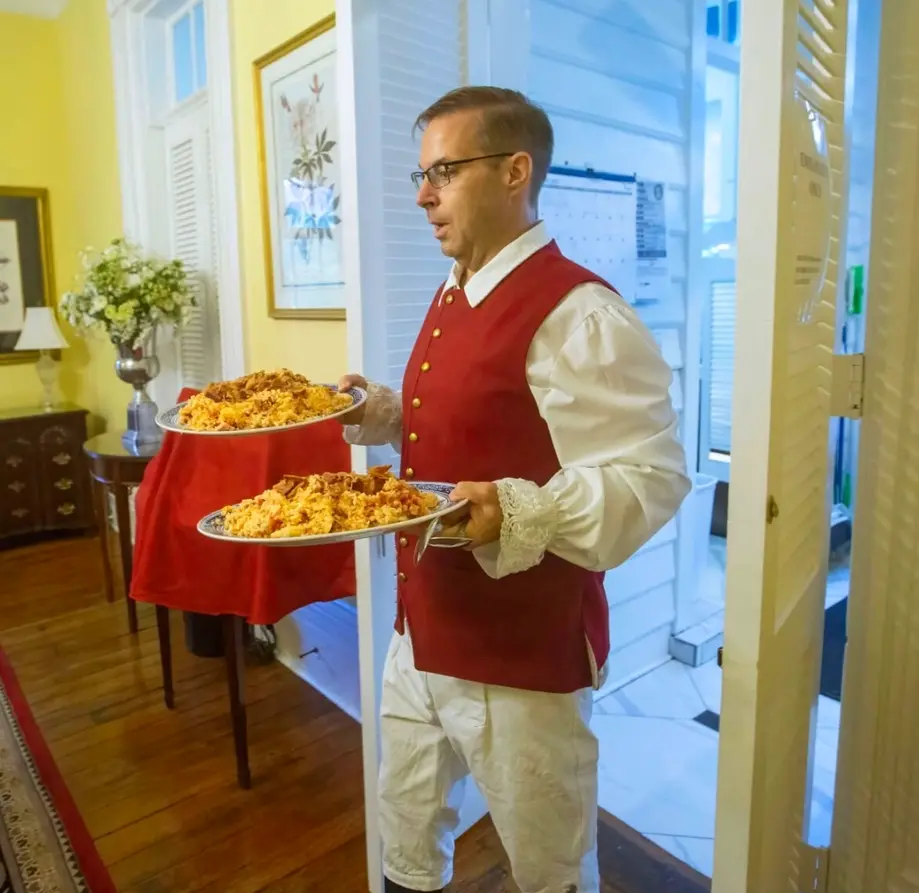 2.0 Hours • Ages 21+
Adult - $130.00 + tax
Ages 18+
AN 18TH AND 19TH CENTURY CHARLESTON DINING EXPERIENCE AND MUSEUM TOUR

Duration
2.0 Hours
About
Charleston's two biggest passions are food and history. We combine those two passions as you transport yourself through time on our unique tour where you never have to leave your seat.
You will enjoy a generous five course meal served in "service a la Francais."
Each entree covers a different period of Charleston's history, with food authentic to the times. It's all fully narrated by your host and culinary historian, Mike Hebb. You
will not only taste Charleston's history, you'll also learn about domestic life, the walled city of Charlestowne, the Revolution, slavery, the Civil War, and Reconstruction and beyond.
A 48 hour advanced notice is required for a full refund.
BYOB
You will be offered a glass of the most popular wine in Charleston in the 18th and 19th Century, called Madeira, at no cost to you. All other drinks are BYOB. Bring what you like to drink and Mike will provide ice and glassware.
More Info
Due to the nature of the evening and cuisine being prepared, there must be a minimum of 6 total guests booked for the event in order for the dinner to take place.
There will be a section in the booking page to relay any dietary concerns or restrictions. It is important for all guests to know that certain requests may not be met. Due to the authenticity of the dishes, vegetarian, gluten free, and dairy free will drastically reduce the number of dishes available. All other allergies must be noted at the time of booking.
Please note, participants must be at least 21 years old or older. Special cases may be considered, please call Mike to discuss.

Gratuity is not included in the price of your Supper. If you enjoy the experience, please leave whatever you feel is appropriate.